Main Pool
Dive into our DG1 flagship 25m pool - the ideal place for public and lane swimming.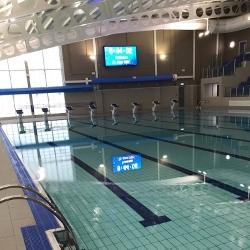 COVID-19 Update
Please note all pool sessions must now be booked in advance. Details on how to book will be available soon prior to us reopening on 14 September.
---
Public Swimming
All swimming abilities and ages are welcome to come along to public swimming in our 25 metre, 8 lane pool. The pool goes from a depth of 0.9 metres to 1.8 metres and the water temperature will be 29 degrees. Whether you are a beginner looking to build your water confidence or wanting to swim for fitness, the main pool, the largest of our pools, is the perfect choice.
Please note that during peak times public swimming will operate on an hourly band system.
Lane Swimming
Looking to get the lengths in and swim for fitness? Are you a competent swimmer who wishes to train as part of your exercise routine? Then our 25m lane swimming sessions will provide the dedicated water space you are looking for. Lane swimming is available daily, providing swimmers with the opportunity to reap the benefits of swimming and improve overall fitness.
As with public swimming during peak times, sessions will operate on a band system and session duration is 60 minutes.
Pool Ratios
Children under 8 must be accompanied in all public swimming sessions. Our ratios are as follows:
1 responsible adult aged 16 years and over can supervise 2 children aged between 4 and 7 years old
or
Children aged 3 years and under must be accompanied by 1 responsible adult aged 16 years and over on a one-to-one basis.