Gym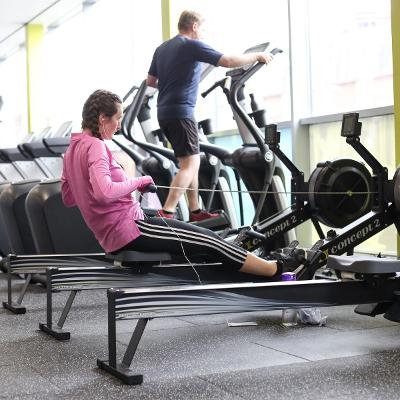 The DG1 gym is a comprehensive and vibrant gym that can cater for all abilities and fitness levels. Our qualified fitness instructors are trained to facilitate all your needs and requirements and can help you to achieve your fitness goals.
Our gym is equipped with a range of cardiovascular, resistance and free weights and plate loaded equipment. You will also find a dedicated stretching and relaxation area in the gym, giving you the space to stretch off those muscles.
All of our Origin Intenza cardio equipment is the same spec, with brilliant 16" touchscreen display screens and robust steel frameworks providing the reliability and stability that you look for in a quality machine. Having the same spec on all of our machines enables you to easily use and understand our machines and feel confident in the gym.
For those with an interest in resistance training our Origin Impulse machines are perfect for the busy gym environment. The design, set-up and movements are all intuitive and easy to understand for users with varying levels of experience. This makes it the perfect range for all user types.
If weights are your thing, we have free weight and plate-loaded kit including dumbbells ranging from 1kg - 50kg, metal barbells 10kg & 20kg, fixed weight barbells and elite racks.
Wellbeing Suite
Our Wellbeing Suite is a dedicated area with a wellbeing gym and studio allowing our instructors to work with small groups or on a 1-to-1 basis with customers who have been prescribed exercise through their GP for health reasons or rehabilitation. We can also work with customers with chronic medical conditions who need assistance and support in exercise and fitness. Our aim is to help people realise the benefits of exercise and for them to feel confident in a gym environment.
Gym Programmes
Gym programmes provide customers with a focus and structure when they are working out in our gym. They will also help our customers on their way to achieving a specific target be it for weight loss, strength, fitness or toning. Our fitness team can provide bespoke workout programmes tailored to your needs, so please just ask one of our team to create a programme for you.
We will also have "off the rack" programme cards available for our customers. These are pre-printed cards which have been created by our instructors which can help to motivate you in the gym. We have a range of cards focusing on different fitness needs, so check them out now.